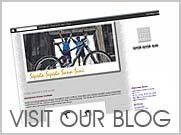 Di situs ini, kami akan memperkenalkan sepeda-sepeda yang saat ini menjadi koleksi keluarga. Meskipun bukan sepeda "high-end", tetapi merupakan kebanggaan kami, karena nyaris semuanya dirakit di rumah sendiri. Upaya yang dimulai dari mengumpulkan alat-alat (tools) spesifik sepeda sampai perlengkapan untuk pemeliharaannya.  Aktivitas tersendiri dalam merakit dan memelihara yang menghabiskan banyak waktu selain kegiatan bersepeda sendiri.
       Yogyakarta, kota dimana kami tinggal, dulunya dikenal sebagai "kota sepeda". Setidaknya sudah 3 generasi di keluarga kami akrab dengan sepeda. Tidak hanya untuk ke tempat kerja atau sekolah, tetapi juga sebagai sarana rekreasi. Saat ini memang kegiatan "cross-country" adalah yang paling mendominasi kegiatan bersepeda keluarga.
       Sebuah kesinambungan sejak era tahun 1970an, hobby bersepeda dilakukan dengan menjelajah alam dan desa melalui jalan tanah setapak yang waktu itu dilakukan dengan sepeda klasik. Tidak heran kalau mayoritas koleksi sepeda kami adalah mountain-bike khususnya dengan spesifikasi cross-country.


(Klik gambar untuk arsip "Picture of the Week" yang lalu)
---

       This site contains everything about bicycles owned by our family. Although, they do not classified as high-end bikes, but we proudly collect them. Almost all parts of those bicycles were house-assembled. The effort begins with buying specific tools for bike and any other goods and equipments for maintenance. Assemble and maintenance bicycles takes a lot of time others than cycling activities.
       We live in a town named Yogyakarta, which formerly well known as a "bike city". At least three generations in our family have become bike friendly. Not only brought us to work or school, but also for recreational purposes. Nowadays, the family biking activities dominated by cross-country outdoor events.
       We do it continuously since ca. 1970 using "classical" bikes for crossing bushes, village tracks, and rice field step ways. It's an understandable thing that mostly our collections are cross-country specific bikes.

        Ce site contient tout ce qui a la relation avec les bicyclettes. Bien que ce ne soit pas celles de qualité suprème, mais pour nous c'est vraiment une fierté de les collectionner. Presque toutes les parties de ces bicyclettes sont assemblées à la maison. On commence par acheter des appareils pour bicyclette et d'autres objets et équipements pour les maintenir. L'assemblage et le maintien prennent autant de temps que l'activité du cyclisme.
        On habite une ville qui s'appelle Yogyakarta, qui était auparavant connue comme "la ville des vélos". Ça fait trois générations dans notre famille qu'on est très familier avec le vélo. On le prend non seulement pour aller au travail ou à l'école, mais c'est aussi un moyen de récréation. A présent le "cross country" domine l'activité du cyclisme de la famille.
        C'est une habitude qui se déroule depuis l'année 1970, utilisant des vélos 'classiques' pour traverser des buissons, la campagne, les sentiers des rizières. C'est la raison pourquoi on préfère avoir des vélos du type 'cross-country' comme collection.

         Auf dieser Seite wollen wir die Fahrraeder vorstellen die zur Zeit unserer Familie gehoeren.Obwohl diese Raeder keine "high-end" Geraete sind, sind wir recht stolz auf sie, haben wir sie doch alle selbst hier im Hause zusammengebaut. Der Aufwand begann mit der Zusammenstellung der speziellen Fahrrad Werkzeuge bis hin zur Vervollstaendigung der "tools" die zur Instandhaltung noetig sind. Ganz zu schweigen vom betraechtlichen Zeitaufwand fuer die Bikes. Einerseits fuer den Zusammenbau und die Instandhaltung andrerseits die Zeit fuer die eigentlichen Radfahr -Aktivitaeten.
        Yogyakarta, die Stadt in der wir leben, war frueher bekannt als "Radler-Stadt".In unserer Familie werden Raeder schon seit mehr als 3 Generationen verwendet. Nicht nur um zur Arbeit zu fahren oder in die Schule, aber auch als echtes Freizeitvergnuegen. Zur Zeit ist "Cross-Country" unser beliebtester Familiensport.
         Diese Ausfluege wurden seit 1970 mehr und mehr zum Hobby. Mit "klassischen" Bikes geht es durch die Landschaft, zu entlegenen Doerfern, an Reisfeldern vorbei, durch Baeche und Fluesse... Verstaendlich dass wir deswegen hauptsaechlich "Cross-Country" Raeder in unserem Radstall haben !